Latest Episode (Mekakucity Actors)
Kano informs the group of the situation as they make their escape, using their powers to get past all of the guards. When the group end up getting lost, Hibiya uses his power of clairvoyance to pinpoint Kenjirou's location and they soon arrive in his lab. The snake claims that the current world was created by Marry due to her wish to be with her friends, resulting in a endless loop of the snake being revived. The snake then possesses Konoha's body, using its immense power to overwhelm Kido, Kano, and Seto, coercing Marry to take their snakes and try to begin the cycle all over again. However, the words of her friends keeps Marry from going through with it. At that moment, Shintaro and Ayano arrive and, with assistance from a previous world's Konoha, give Marry the power to swallow everything. Believing in the future over a fantasy world, Marry overcomes the snake, who is destroyed by a final wish of Konoha, before having a brief reunion with her mother. The series ends with Shintaro and Ayano in the real world and reuniting with the others.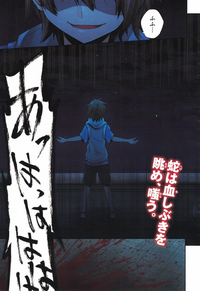 Kano and Hiyori attempt to reach out to Momo, only to be informed by Ene that any attempts are futile. Upon wanting to face the person who inflicts this cruel fate upon her friends, Hiyori is found by Konoha, who wishes to speak to her. However he is interrupted by Ene, who wishes for her old friend Haruka to recognize her.
Currently there are 292 articles on this wiki
Make sure to read the rules before editing
• That Azami's birthday is on the same day as the time loop?
• That the song Shintaro wrote at the start of the manga was actually Toumei Answer?
• That there are different routes to the story?
Current Poll
How excited are you for Mekakucity Reload?
Previous Poll
Do you think the anime adaption fits the fans' expectations?
| Rank | Poll | Votes | Percentage |
| --- | --- | --- | --- |
| 1st | I love it | 3721 | 57.28% |
| 2nd | Could have been better | 2527 | 38.9% |
| 3rd | I don't like it at all | 248 | 3.82% |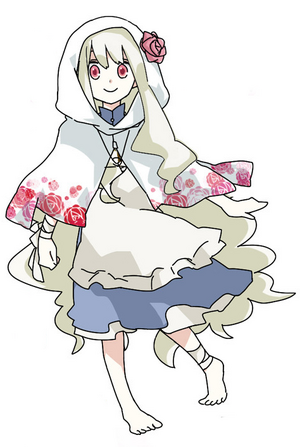 If you would like to become an affiliate of the Kagerou Project Wiki, contact iRosefeather!